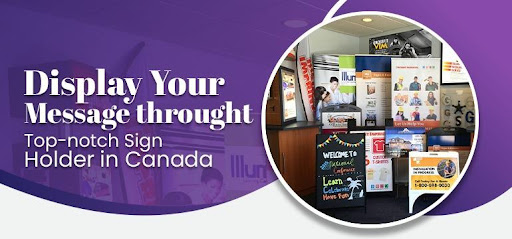 In today's competitive business landscape, effective communication is crucial for success. Whether you are promoting a product, announcing an event, or providing important information, having a clear and eye-catching display is essential. This is where sign holders in Canada come into play. These versatile and reliable tools allow you to showcase your message with confidence, ensuring maximum visibility and impact. In this blog, we will explore the benefits of using sign holders and how they can elevate your messaging game.
Enhance Visibility:
One of the primary advantages of using sign holders is the enhanced visibility they offer. These holders are designed to elevate your signs, making them more noticeable and engaging for your audience. Whether you place them at entrances, in-store displays, or trade show booths, sign holders help your message stand out from the crowd, attracting attention and generating interest.
Versatility in Display Options:
Sign holders in Canada come in various styles and configurations to accommodate different needs and environments. You can use them indoors or outdoors, in a variety of settings. From floor-standing sign holders to countertop and wall-mounted options, you can choose the perfect holder to match your specific requirements. Whether you prefer a sleek and modern design or a more traditional look, there are sign holders available to suit your branding and aesthetic preferences.
Durability and Stability:
When it comes to displaying your message, durability and stability are crucial factors. The best sign holders from Screen Printing are built to withstand the test of time, ensuring your signs remain securely in place. Whether it's a busy retail environment or an outdoor setting, these holders are designed to withstand frequent handling, foot traffic, and weather conditions. This durability allows you to confidently showcase your message without worrying about constant adjustments or replacements.
Easy Installation and Interchangeability:
Sign holders in Vancouver, Canada are made with user convenience in mind. Many models offer easy installation and quick sign changes, allowing you to update your messaging effortlessly. This feature is particularly beneficial for businesses that frequently update their promotions, offers, or informational displays. With user-friendly mechanisms and interchangeable sign inserts, you can keep your messaging fresh and relevant without hassle.
Professional and Polished Presentation:
Using sign holders adds a professional touch to your displays. These holders provide a clean and organized appearance, elevating the overall aesthetic of your signage. Whether you are representing your brand at a trade show or welcoming customers into your store, the sleek and polished presentation offered by sign holders helps create a positive and lasting impression.
Summing Up:
Displaying your message with confidence is essential for effective communication and attracting attention in a competitive marketplace. By utilizing sign holders and screen printing frames from Screen Printing Vancouver, you can enhance the visibility, provide clear communication, convey brand character & identity, increase brand awareness, and reach the right audience through a cost-effective way. You can also contact Screen Printing Vancouver for top-notch sandwich boards in Vancouver, roll up banners, light boxes, trade show banners, snap frames, lawn signs in vancouver etc. Some of the personal/business signs services that we provide include wedding signs, retail/open business signs, bars/pubs signs, realtor sigma, offer signs, and special occasion signs. With various styles and configurations available, you can find the perfect products to suit your specific needs. 
Why Choose Screen Printing? 
With Screen Printing or Instant Imprints Main Street Vancouver, you can effectively promote your retail store products, sale items, and promotions using a variety of sign holders. Offering a wide selection of signs and styles, these holders simplify the process of conveying important information to your customers. Opt for a versatile floor sign holder that not only allows for easy placement but also enables you to make a striking impact. Screen Printing offers a range of sign holders tailored to meet the specific requirements of your business.