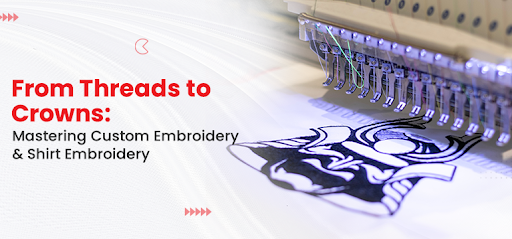 When it comes to custom embroidery services in Vancouver, Screen Printing Vancouver leads the way by providing exceptional quality at competitive rates. Its extensive range of services covers everything from shirt embroidery to custom hat embroidery and more, ensuring that we can meet a variety of needs and preferences. This blog will delve into the compelling reasons why choosing Screen Printing Vancouver is the perfect decision for individuals and businesses looking to enhance their style or promote their brand.
Endless Possibilities with Custom Designs:
In the world of custom embroidery, Screen Printing Vancouver opens up a realm of endless possibilities. Our team of highly skilled professionals excels at bringing your ideas to life, whether you have a unique design, a company logo, or personal artwork in mind. This ability to create custom designs empowers individuals and businesses alike, allowing them to express their creativity and distinctiveness through clothing and accessories. It's a way to make a statement and stand out, all made achievable through Screen Printing Vancouver's expertise in transforming concepts into exquisitely embroidered masterpieces.
Technologically Advanced Equipment:
Screen Printing Vancouver places great importance on its state-of-the-art embroidery equipment, a source of pride that ensures every stitch is executed with precision and meticulous attention to detail. Our advanced machinery is more than capable of handling even the most intricate designs and complex patterns, making it effortless to bring your creative visions to life. This unwavering dedication to technological excellence underscores our commitment to consistently providing embroidery services of the highest quality to their valued customers.
A Wide Range of Applications:
Screen Printing Vancouver's custom shirt embroidery services extend far beyond a single type of apparel. We provide a diverse array of applications, encompassing everything from shirt embroidery to custom hat embroidery. This versatility ensures that you can personalize not only clothing but also accessories and promotional items to suit your needs. Whether you require custom patches for your jackets, intricately embroidered logos on polo shirts, or personalized hats, our services are designed to meet your every demand.
Professional Look for Corporate Branding:
For businesses looking to make a lasting impression, custom embroidery is a powerful tool. Screen Printing Vancouver specializes in corporate branding, providing businesses with a professional and polished look. Customized uniforms, embroidered logos on workwear, and branded merchandise all contribute to a cohesive and recognizable brand identity.
Conclusion:
Screen Printing Vancouver sets the standard for custom embroidery services in Vancouver, offering unmatched quality, endless design possibilities, advanced equipment, and a diverse range of applications. Whether you are an individual looking to personalize your style or a business aiming to enhance its brand image, Screen Printing Vancouver's custom embroidery services including shirt embroidery and custom hat embroidery provide the perfect solution. Elevate your style and make a lasting impression with our exceptional embroidery expertise.